Anchors Emily Riemer and Antoinette Antonio have been promoted to new positions at Boston's WCVB ABC 5.
Anchors Emily Riemer and Antoinette Antonio have been promoted to new positions at Boston's WCVB ABC 5.
"They say that luck is when preparation meets opportunity, so we are very "lucky" to have the perfect people to step right in – and we are proud to announce the following promotions" said WCVB president and general manager Bill Fine in an email to staff.
With the pending departure of J.C. Monahan, J.C. is being moved from anchoring on NewsCenter 5 to Chronicle full-time.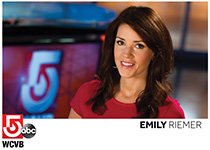 "Emily Riemer, who has excelled at every assignment we have given her over the years, will join Ben Simmoneau on NewsCenter 5 at 5pm" said Fine. "Their pairing is a natural evolution – 20 years in the making – from their first days working together as college classmates and journalism majors at Ithaca College. In other words, their pairing now on WCVB has deep roots. Emily will also join Ed Harding on the 4pm newscast and continue on the Medical Beat, where her excellent work is already being hailed by the medical community."
Emily previously co-anchored WCVB's weekend morning newscasts from March 2011 to May 2013 and returned to WCVB as an anchor in June 2014.
Before her time at WCVB, Emily originally worked for duopolies WSYX-TV and WTTE-TV in Columbus, Ohio where she served as a political reporter and news producer.
During her distinguished career, Emily has reported on a range of stories such as daily government and public policy stories covering topics such as legislative initiatives, election campaigns and the impact of budget cutbacks. She secured an exclusive interview with Marc Dann, then Ohio's embattled attorney general, on the eve of his resignation.
Emily was also invited to the White House in December 2010 to interview President Obama, one of only four reporters from local affiliates from around the country.
Prior to her work in Ohio, Emily was the Saratoga bureau chief for Time Warner Cable's Capital News 9 in Albany, New York. She began her broadcast career at Ithaca College's NewsWatch 16 while studying broadcast journalism at the upstate New York school. During that time, she was a summer intern with the medical news unit of WCVB.
A native of Andover, Emily is a 2006 graduate of Leeds University in England where she earned a Master's degree in international communications. She is also a 2003 graduate of Ithaca College where she earned a Bachelor's degree in broadcast journalism.
Follow Emily on Social Media:
"Antoinette Antonio will move (as she quips) "5 feet" and join Randy Price on the EyeOpener Anchor desk" Fine said. "Ever since Antoinette joined the weekend EyeOpener it was clear that someday she would helm one of our major newscasts. She will also continue her extraordinary profiles of those A+ students, who overcome the odds to succeed in life, while continuing as the Noon anchor with Erika Tarantal."

Antoinette joined WCVB in June 2013 as a co-anchor of the weekend edition of NewsCenter 5 EyeOpener, and was also a morning reporter. In November 2016, she was promoted to an in studio reporter for the weekday edition of the EyeOpener, and co-anchor of WCVB's noon newscast.
Antoinette came to WCVB from KOB-TV in Albuquerque, New Mexico, where she was the morning and noon anchor. She joined KOB-TV in 2005, starting out as a general assignment reporter. Antoinette began her broadcast career in 2003 as a morning news anchor and general assignment reporter at KWES-TV Midland/Odessa, Texas.
While in Albuquerque, Antoinette covered everything from wildfires to floods to snow storms to hot air balloon crashes. Most notably, she interviewed then Senator Barack Obama during a campaign stop in New Mexico. She was part of several team "Breaking News" awards from the New Mexico Broadcasters Association. Antoinette also received a 1st place award by the Associated Press in Texas for "Best Sports Story" as well as 1st and 2nd place awards for anchoring and reporting.
A native of Orange County, California, Antoinette is a graduate of the University of California at Irvine where she earned Bachelor's degrees in English and international studies. Antoinette is a member of the Asian American Journalists Association.
Follow Antoinette on Social media:
Fine ended by saying "we have no doubt these transitions will be seamless and successful!"
All changes will be effective on Monday February 27th.
Related: Read 11 Questions with Emily Reimer
BLOG COMMENTS POWERED BY DISQUS