Sujata Jain is a reporter at WFSB CBS 3 in Hartford, Connecticut.
Sujata joinedSujata joined WFSB from WCSC-TV CBS 5 in Charleston, SC where she had been the nightside reporter for the 10pm and 11pm newscasts since 2013. Before joining WCSC, Sujata spent two years as a reporter, producer and fill-in anchor at WHAG-TV NBC 25 in Hagerstown, MD. Sujata also spent two years at TV Asia in Edison, NJ where she produced and anchored 30-minute national news segment five times a week. She also reported for the station on political, religious, and social issues impacting the community. Prior to that, she spent a brief time as the Washington, D.C. correspondent reporting for KLBK-TV CBS 13 of Lubbock, TX.
Before getting into broadcast news, Sujata spent almost 5 years as a high school science teacher in West Nyack, NY.
A native of Asheville, NC, Sujata is a 2000 graduate of the University of North Carolina at Chapel Hill where she earned dual Bachelor's degrees in French and biology. She also achieved a Master's degree in education from the Teachers College of Columbia in New York City in 2002, and a Master's degree in broadcast journalism from Syracuse University in 2008.
1. What kind of phone do you have, and what are your favorite apps?
[iPhone] 5s, Yelp, Shape, NYT and WFSB 3 (of course) J
2. Favorite and least favorite news topics to cover (besides violent crime)?
I love covering pieces that touch people in some way, whether it's a teen doing something extraordinary, a mother grieving her child or a child thinking she's a mother to a duck. I think the stories that evoke emotion are the ones people carry with them. My least favorite news to cover is fires.
3. If you weren't working in TV news, what would you be doing?
Teaching
4. What was your favorite cartoon growing up?
Tom and Jerry (I'm old) J
5. When you have 30 minutes of free-time, how do you pass the time?
I usually Facetime with my niece and nephew in North Carolina. Otherwise, I look up new recipes to try out on my new husband [Western Mass News meteorologist Jacob Wycoff.]
6. If you could travel anywhere, where would you go and why?
I dream about traveling to the Galapagos. As a former Biology major, Evolution and Darwinism was once of my favorite areas. I would love to see the finches and turtles I studied and then taught.
7. Given the choice of anyone in the world, whom would you want as a dinner guest?
Barack Obama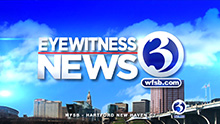 8. Do you collect anything?
As a child I had several collections (pencils, erasers, stickers), but none as an adult.
9. What are the top 3 played songs on your iPod?
I'll Be, Uptown Funk, Hello
10. What is one of your favorite quotes?
"Gently in manner, strong in deed." – Dwight Eisenhower
11. What was the last experience that made you a stronger person?
Taking my new position at WFSB.
More about Sujata Jain
No endorsement between WFSB and New England One is implied or intended by Sujata Jain's participation in "11 Questions"
BLOG COMMENTS POWERED BY DISQUS