Sean Parker is the chief meteorologist at WVNY-TV ABC 22 and WFFF-TV FOX 44 in Burlington, VT.
Sean came to WFFF/WVNY in January 2015 from Nexstar Broadcasting sister-station WATN-TV ABC 24 in Memphis, TN where he was a weekend meteorologist. He was also an environmental reporter during the week, reporting on stories from bugs to flooding to astronomy. Prior to his time in Memphis, Sean was a morning meteorologist at WTXL-TV ABC 27 in Tallahassee, FL. He started his career at KREX-TV CBS 5 in Grand Junction, CO where he was a meteorologist and reporter.
A native of Easton, MA, Sean is a graduate of Lyndon State College where he received a Bachelor's degree in meteorology. He is also designated as a Certified Broadcast Meteorologist by the American Meteorological Society.
1. What kind of phone do you have, and what are your favorite apps?
iPhone 5s - Facebook, Twitter, CNN, ESPN and radarscope get the most work.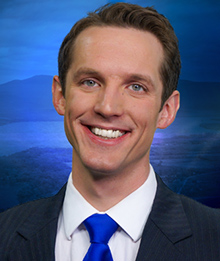 2. Favorite and least favorite news topics to cover (besides violent crime)?
I've done quite a bit of reporting, especially when I was in Memphis.
Favorite stories: Kids getting involved with the environment, science or technology. Also, community projects aiming to do improvements from gardens, to complete neighborhood makeovers. Oh yea, flying in a stunt plane was cool too!
Least favorite: Storm clean up, those situations are never easy.
3. If you weren't working in TV news, what would you be doing?
Teaching or something in sports. My retirement life will involve a golf course somehow.
4. What was your favorite cartoon growing up?
Doug. "Let's go to the Honker Burger, for a shake."
5. When you have 30 minutes of free-time, how do you pass the time?
Running my 6 year old Jack Russell or learning how to play guitar.
6. If you could travel anywhere, where would you go and why?
In a perfect world, I'd want to go to Egypt. The pyramids have always fascinated me.
7. Given the choice of anyone in the world, whom would you want as a dinner guest?
Jerry Seinfeld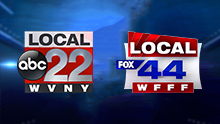 8. Do you collect anything?
No.
9. What are the top 3 played songs on your iPod?
I can't remember the last time I downloaded a song.
My top 3 Pandora stations are: 1) Dispatch 2) Reel Big Fish 3) Jim Gaffigan Comedy
10. What is one of your favorite quotes?
I could go with something serious but I love science, laughing and the Simpsons: "Ah, there's nothing more exciting than science. You get all the fun of sitting still, being quiet, writing down numbers, paying attention... science has it all." - Seymour Skinner
11. What was the last experience that made you a stronger person?
Before 2007, outside of a couple Florida trips, I hadn't left New England. Since then, I've moved to Colorado, Florida, Tennessee and now I'm back in Vermont. Each move has had its own set of challenges and rewards that have made me smarter and stronger.
More about Sean Parker
No endorsement between WVNY-TV/WFFF-TV and New England One is implied or intended by Sean Parker's participation in "11 Questions"
BLOG COMMENTS POWERED BY DISQUS