Olivia Fecteau is a general assignment reporter at WCMH NBC 4 in Columbus, Ohio.
Olivia joined WCMH in January 2016 after spending two years at WJAR NBC 10 in Providence, Rhode Island where she was a reporter. Prior to joining WJAR in June 2014, Olivia worked as a reporter and multimedia journalist at WSAZ NewsChannel 3 in Charleston-Huntington, West Virginia. Before that she covered stories for WBRE/WYOU-TV (Scranton/Wilkes-Barre, Pennsylvania) from Washington, D.C., and worked as a freelance radio reporter for WRVO-FM in Central New York. She also interned at NewsChannel 9 WSYR in Syracuse, New York, and at New England Cable News.
A native of East Syracuse, Olivia earned her master's degree in broadcast and digital journalism from the S.I. Newhouse School of Public Communications and studied industrial and labor relations as an undergraduate at Cornell University.
1. What kind of phone do you have, and what are your favorite apps?
My personal phone is an iPhone 5S and my work phone is a Droid Turbo. Favorite app is probably a tie between Spotify and Twitter…I also love Evernote, which I use to organize notes and to-do lists.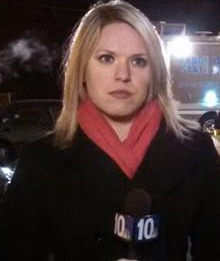 2. Favorite and least favorite news topics to cover (besides violent crime)?
I love to cover anything unusual or out-of-the-ordinary – anything that surprises the viewer or is a new experience I can bring to the people watching at home. I did a story once about a guy dressed up as Batman who saved a cat from a burning house (seriously). I've loved covering events like the Rhode Island Air Show or getting to participate in the Providence Fire Department's "Fire Ops" program. Least favorite…I can't lie, I don't like weather. Standing out in the snow or rain doing live shots is not fun!
3. If you weren't working in TV news, what would you be doing?
I'd probably still work in journalism…maybe long-form video projects or documentaries.
4. What was your favorite cartoon growing up?
I remember I liked Animaniacs, Doug, Recess, the Magic School Bus…but nothing stands out as "favorite."
5. When you have 30 minutes of free-time, how do you pass the time?
Depends on the day and whether I only have 30 minutes! I might go for a walk or run, watch a TV show, listen to a podcast (I love "This American Life") or call my family or friends. If I have more than 30 minutes (maybe a few hours?!), I love to hike and travel.
6. If you could travel anywhere, where would you go and why?
I don't know if I can pick one place! I'd love to travel to Europe, but I've also never been to the West Coast. I've always wanted to do a cross-country road trip.
7. Given the choice of anyone in the world, whom would you want as a dinner guest?
My grandfather (my mom's dad) – he passed away in 2009 and I'd give just about anything to hang out with him again for an evening. :)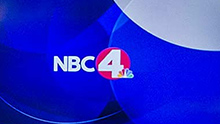 8. Do you collect anything?
I collected elephants when I was younger – stuffed elephants, elephant figurines, etc.
9. What are the top 3 played songs on your iPod?
It changes all the time. I make new Spotify playlists constantly! Right now, the top 3 are probably Andrew McMahon in the Wilderness – "Maps for the Getaway," Rudimental ft. Emeli Sande – "Free," and Chris Stapleton – "Traveller."
10. What is one of your favorite quotes?
This one always makes me laugh and is relevant to TV news (and question #2!)…my acting professor in college once said, "I promise you, real life is odder than anything you could make up."
11. What was the last experience that made you a stronger person?
Moving to a new city alone and starting a new job in a new market is always a pretty trying experience. I've grown a lot as a person since I started at NBC 10.
More about Olivia Fecteau
No endorsement between WCMH-TV and New England One is implied or intended by Olivia Fecteau's participation in "11 Questions"
BLOG COMMENTS POWERED BY DISQUS