The television news world is a small one, those that report on television news is even smaller.
The television news world is a small one, those that report on television news is even smaller.
Two of those insiders have decided to move on, so we wanted to thank them for all that they have done.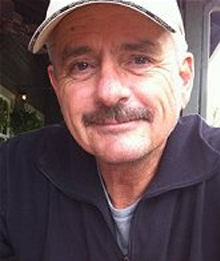 First, Mike James of NewsBlues.com has announced that he is retiring come June.
"In a few months, NewsBlues will cease to exist in its current form" James said in his daily newsletter on April 7. "The final edition of our daily newsletter will be published Friday, June 16. Whether it will be replaced by something else... something brighter and newer and more modern... remains to be seen."
"After nearly 19 years and more than 4,100 daily insider newsletters for TV news professionals, your Surly Editor® (who turns 69 in September) will retire this summer" he said. "Pending knee replacement surgeries and ongoing problems with skin cancer have made it physically impossible to continue at the current pace."
"In the meantime" he added, "NewsBlues will continue to publish daily, as it has for nearly two decades. The tone will not abate. The snarkiness will remain. Keep an eye on this space for further updates."
Second, Kevin Eck, editor of TVSpy.com, moved on from that job on April 14.
"After thousands of posts, three ownership changes, three apartments, millions of rides on the E, the F the 6 and the 1 to the shuttle to Grand Central to the 6, I'm signing off from TVSpy and New York to spend more time with my family. I'm kidding. I'm taking a job at a high tech company back home in the Bay Area" Eck said in a post to TVSpy.com.
"I am grateful to everyone who has read this blog and I hope I have done a decent job of showing the daily snapshot of what's happening in local news so those doing bad would stop and those doing something good would continue" he said.
"In my time here at mediabistro, which begat Mediabistro Holdings, which begat Adweek I've had the privilege of telling the stories of local news directors, reporters and anchors about what they do and why they do it. I hope I've been fair and at least accurate.
"I've also been lucky enough to shoot video of and/or interview people like Larry King, Katie Couric, Shepard Smith, Keith Olbermann and Ken Burns. I got to wander around the Bon Appetit test kitchens at One World Trade Center, shoot an interview with ABC News anchor David Muir in his office, shoot various interviews in history filled 30 Rock, the building with one of the most majestic and beautiful lobbies ever, tromp around New York Magazine with camera in hand and take a few trips to CBS on West 57th street where there was that time I finally got my dad to understand what I do for a living when I interviewed his hero, Bob Schieffer, about how he got his first big break."
You can read Eck's full statement here.
Good luck to both, and great success in whatever you decide to do. You will both be missed!
BLOG COMMENTS POWERED BY DISQUS